The NY Post might have moved by Trump's thoughts on this Memorial Day. But most of us know better:
Trump's Memorial Day message honors those who made 'supreme sacrifice'

NY Post
This is the same Trump who has mocked veterans and those who the supreme sacrifice for their country:
Trump: Americans Who Died in War Are 'Losers' and 'Suckers'

The president has repeatedly disparaged the intelligence of service members, and asked that wounded veterans be kept out of military parades, multiple sources tell The Atlantic.

TheAtlantic
On Veteran's Day in 2018 his excuse for not visiting Arlington Cemetery, which is standard for U.S. presidents, was that he was "busy:"
In a rare expression of a regret, President Donald Trump has admitted that he made a mistake by not visiting Arlington National Cemetery on the Monday after Veterans Day, a presidential tradition.

Why didn't he go when he had the chance? According to a transcript of his conversation with Fox News Sunday anchor Chris Wallace from an interview set to air Sunday, he was "extremely busy" on Veterans Day.

Speaking with Wallace about his decision not to visit the Aisne-Marne American Cemetery in France on Saturday November 10 and Arlington Cemetery outside DC on Monday, Trump admitted "he wishes he had a rare do-over," Wallace told Fox News' Shepard Smith on Friday.

"I should have done that," Trump said. "I was extremely busy on calls for the country, we did a lot of calling as you know." (The president's schedule for Monday November 12 was empty, at least of public events.)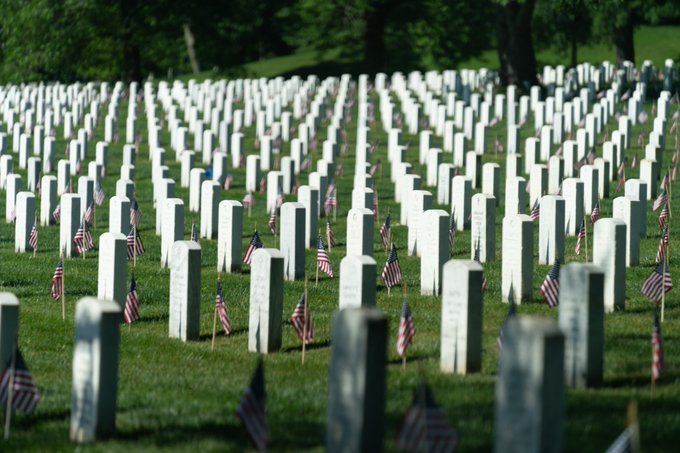 He also bailed on visiting an American WWI cemetery in France. That time it was the weather:
The White House's decision on Saturday to scrap President Trump's visit to a cemetery for fallen American soldiers due to weather irked more than a few observers, including those who have served their country in the military.

Trump, who is in France to commemorate the end, 100 years ago, of World War I, was scheduled to take a 30-minute helicopter ride from Paris to the Aisne-Marne American Cemetery and Memorial in Belleau, France. But a rainy forecast for the area made it too risky for him to safely fly there, the White House said a couple hours before the president was to arrive at the ceremony.

…White House chief of staff John Kelly and Gen. Joseph Dunford, the chairman of the Joint Chiefs of Staff, made the roughly 50-mile long trip to the cemetery in a small motorcade of vehicles, ABC News reported. The drive took about 90 minutes each way.

Separately, French President Emmanuel Macron and German Chancellor Angela Merkel traveled a similar distance by car to a World War I commemorative event in northern France, according to several media reports.
Trump has been disrespecting the Troops for a long time:
Perhaps no one was less surprised last week when it was reported that U.S. President Donald Trump had called American war dead "losers" and "suckers" than his former high school classmate George M. White.

The 74-year-old retired Army veteran was Trump's superior—the first captain, or highest-ranking cadet—in Trump's 1964 graduating class at the New York Military Academy. White said he witnessed up close Trump's contempt for military service, discipline, and tradition, as well his ungoverned sense of entitlement, all helped along by his father Fred Trump's generous donations to the school.

"No, those remarks absolutely didn't surprise me. In my dealings with him he was a heartless, obnoxious son of a bitch," White told me in an interview over the weekend.

According to White and other former classmates at the academy, Trump's five years there, coupled with the disregard for U.S. military traditions he learned at his father's knee, helps explain a great deal of the president's reported contempt for those who fought, died, or were wounded in America's wars, as well as his skeptical view of the need for the United States to fight in places like Vietnam and Iraq.
In fact, Trump is a traitor who works for a foreign power:
In his own way, Trump warned us this would be happening. And worse, every time he revealed that he in fact was a traitor or that those around him supported his betrayals, Trump was not penalized. He was not held accountable. He was not required to answer for his crimes. He was actually rewarded by his base with more rabid support.

Even before Trump became president, he publicly called out for the aid of a foreign nation, one of our foremost enemies no less, to break U.S. law so as to assist his election. What was the result? They did, and he was elected. Then he lied about what he and they had done and began to condemn those who would question his actions. The result? The whistleblowers and witnesses were fired, and he gained more support within his own party. In the Gallup Poll, he never reached a 50% approval rating with the public at large — but his party was in his thrall.

When he betrayed the country again by seeking to extort a foreign ally on a mob-like "I would like you to do us a favor" call to Ukraine, what happened? Laws were broken. His oath was violated. But his party ensured no evidence of his crimes could be presented at a Senate trial, and he got off scot-free.
We should not be surprised that someone who has nothing but contempt for our military would be betraying our country to our enemies: