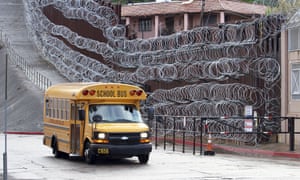 Where is the press and the Democrats decrying this East German-style barbarity:
Officials in a small Arizona border city are decrying the installation of reels of dangerous razor wire that now cover the entirety of the tall border wall that runs through downtown.

The city council in Nogales, which sits on the border, is set to consider a proclamation on Wednesday night condemning the use of concertina wire. It follows reports that US military troops installed more horizontal layers of the wire along the downtown border fence over the weekend.
The military has a duty to disobey the orders of this fraud in the White House. Sending troops to the border to defend against a non-enemy is unconstitutional:
The Pentagon announced Wednesday that it is moving approximately 250 active duty US military personnel to Texas in response to the expected arrival of a new migrant caravan.

Acting Secretary of Defense Patrick Shanahan has authorized "the repositioning of approximately 250 active duty military personnel from current border security support missions in Arizona to the vicinity of the Eagle Pass" in response to the approaching caravan, Pentagon spokesman Capt. Bill Speaks said in a statement.

The movement of troops is in response to a request from the Department of Homeland Security, Speaks added, also noting that these are not new troops but are coming from "existing authorities and in accordance with previously-approved requests for support."
At least some on the border are resisting:
The governor of New Mexico ordered the state's National Guard to withdraw a majority of its troops from the southern border, slamming what she called President Donald Trump's "charade" shortly before his State of the Union address on Tuesday.

"New Mexico will not take part in the president's charade of border fear-mongering by misusing our diligent National Guard troops," Gov. Michelle Lujan Grisham said in a statement.

Lujan Grisham, who was elected as the first Latina Democratic governor of the state in November, said she rejected the "federal contention that there exists an overwhelming national security crisis at the southern border."