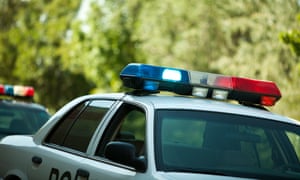 The beat goes on. And no one in government is raising the alarm. Black people are being regularly executed without posing a threat to the police. In fact, cops are lying quite often the person they've shot:
Cellphone video of a sheriff's deputy fatally shooting an unarmed black man shows the man wandering in a Houston street with his trousers around his ankles and continuing to approach the deputy as the officer tells him to stop.

The video, obtained by the Houston Chronicle from a civilian witness, does not show the actual shooting because a car passes in front of the cellphone camera as the Harris county deputy fires a single shot.

A spokesman for the sheriff's office says the man had an object in his hand, but no weapon was recovered at the scene.

Family members identified the man as 34-year-old Danny Ray Thomas, and said he had been devastated after two of his children were killed in 2016. The children's mother is accused of drowning them in a bathtub.

Officers were responding to reports that a man was walking in the intersection with his pants down hitting cars as he mumbled to himself.